It's been a few months in the making and taken longer than I had hoped but WP Club Manager version 1.4.0 has finally been released! It's a major release, in fact, it's the biggest update since the plugin was launched and I'm really excited about the improvements. Let me tell you about them.
Improved Performance
One of the most notable improvements is the increased front-end performance of shortcodes and widgets, shaving seconds off of loading times. By utilising the WP transients API, shortcodes and widgets are now stored in the transient cache which dramatically improves the time it takes to render on your website. I hope you'll be as impressed with the improvements as I am.
Link Players to Users
This version introduces the ability to link your players to registered users of your website. Meaning your players can now register on your site and have their account linked to their player profile.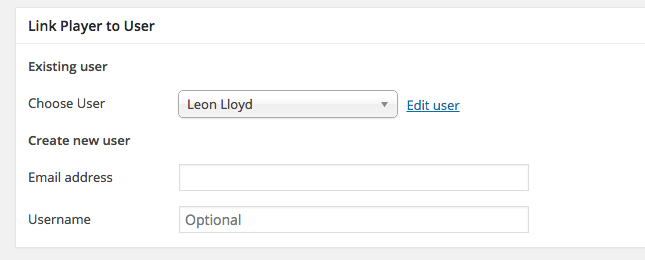 This feature doesn't do much on its own at the moment but it creates an opportunity for some exciting features in the future so watch this space!
More Club Detail
I've added more options to clubs so you can have more detailed profiles of your opposition teams. You can now add the date the club was formed, club honours and club colours.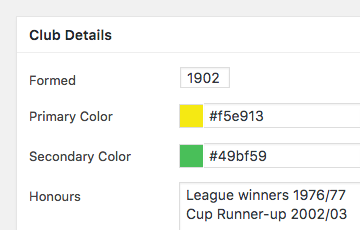 Combined with the existing venue, map and head to head records your website can have an in-depth club profile for each of your opponents.
Matches Shortcode is More Flexible
The matches shortcode has been improved again with more flexibility to display your matches. Options have been added to display either just fixtures, just results or both and set a limit to the number to show. So, for example, you can now display your next five games anywhere on your site using the shortcode.
Other Key Changes in 1.4.0
Order teams and seasons – Change the display order of teams and seasons with a new drag and drop interface.
Match captains – Select your teams captain for each match.
Shirt numbers – Display sequential shirt numbers in the match lineup.
Extra-time – I've added the option of extra-time and penalties to match results.
Improved templates – Nearly all templates have been improved making them much easier to use and customise.
This release also fixes a few bugs and has numerous general code improvements. For a full list of changes take a look at the changelog.
Please note if you have custom WP Club Manager templates in your theme: Because of the changes to some templates it is important that you make sure your theme has been updated to use the new templates otherwise you will encounter problems displaying shortcodes etc.
Scoreline theme users will need to update Scoreline to v1.2 before upgrading WP Club Manager. You will need to have a valid, activated license key to receive updates for Scoreline which should be available in your admin dashboard.
I've done my very best to make sure this release is stable and won't cause any issues as long as your theme is updated with the new templates but please make sure you backup your site before upgrading and let me know if you encounter any issues after upgrading.
Have fun!